Welcome to the Don't Starve Wiki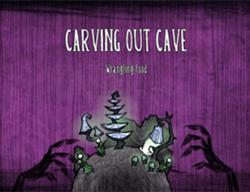 ถ้ำ จะอยู่ในโซนของชั้นใต้ดิน ซึ่งเป็นแผนที่ที่มีเอกลักษณ์เฉพาะตัว จะมีขนาดใหญ่และถูกสร้างขึ้นมาพร้อมกับแผนที่อื่นๆ ภายในเกมส์ (ในช่วงสร้างแผนที่) ถ้าจะมีความงดงามทั้งด้านภูมิประเทศ และแผนที่ที่เป็นลักษณะของตัวเอง และจะมีสิ่งมีชีวิตกับพืชพันธุ์อื่นอยู่ภายในถ้ำ
สิ่งมีชีวิต
นอกจาก Spiders และ Tentacles, สิ่งมีชีวิตต่อไปนี้อาศัยอยู่ใน ถ้ำ (ถึงแม้ว่าต่อมาสามารถย้ายขึ้นมาได้ก็ตาม):
คุณสมบัติ
Stalagmites are a common sight in any cave, and can be mined for Rocks and other items. Similar looking Spilagmites are home to Cave Spiders and Spitters, and can only be destroyed with a Pickaxe. Less common are the Slurtle Mounds, which spawn slow-moving Slurtles and Snurtles.
---
Community content is available under
CC-BY-SA
unless otherwise noted.